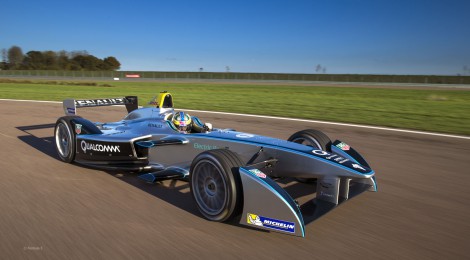 Welcome to EVracing.jp – English
We want to spread awareness of next-generation automobiles through Formula E and other electric racing events, and hope to be of assistance to all those wishing to enter the world of electric vehicle racing by providing a next-generation automobile racing portal.
Led by this mission, today, September 12th 2014, we at Intercast have launched "EVracing.jp", a comprehensive Formula E information site. Today also marks the season-opening race of the FIA Formula E Championship.
Our decision to launch "EVracing.jp" comes from this desire to promote electric racing, and while we don't know how much of a business success "EVracing.jp" will prove to be, we plan to approach the site with the same spirit of challenge as racers taking on EV races.
 We will start simple and ramp up coverage as the season progresses. Expect great things from "EVracing.jp".
EVracing.jp Chief Editor Dai Takagi
[About Intercast]
Intercast was established with the mission of providing "web communication for all customers". It provides total web and marketing solutions as a one-stop consulting, planning, and website development company. In the 15 years since its establishment, Intercast has established a long track record of developing websites for Japanese and foreign governmental organizations, universities, and companies.
2-24-38 intercast bldg. Nishi-Azabu, Minato-ku, Tokyo 106-0031 JAPAN
www.intercast.co.jp
[Past Work]
Force India Formula One Team / Nakajima Racing / SUPER GT TEAM JLOC / Hideki Noda (F1, Le Mans, Indy) / Koji Yamanishi (Le Mans, Super Formula, Super GT)  / Takashi Kogure  (Super Formula, Super GT) / Kazuki Nakajima (WEC, Super Formula) / Daisuke Nakajima (Super Formula, Super GT, UKF3) / Pfizer Japan Inc. / BNP Paribas Securities (Japan) Ltd. / Hokkaido Broadcasting Co., Ltd. / I&S BBDO Inc. / Asahi Advertising Inc. / Cabinet Office / Consumer Affairs Agency / Tokyo Metropolitan Government / World Economic Information Services Foundation / Embassy of the United States / Australian Embassy / Embassy of Mexico / American State Offices Association (partnership) / Government of California / Alameda County, California / State of Kansas, Japan Office / State of New Mexico, Japan Office / State of Tennessee, Japan Office / Enterprise Florida Inc., Japan Office / Washington State Department of Commerce, Japan Office / State of North Carolina, Japan Office / Virginia Economic Development Partnership International Division, Japan Office / West Virginia, Japan Office / New South Wales Government / Government of Western Australia / Kent County Development Agency Japan Office / etc.